Koko Samoa Pods™

THE EASIEST WAY TO ENJOY KOKO SAMOA
Home is where there's a constant supply of koko
GET 10% OFF SITEWIDE

. SALE ENDS IN:
00

Days

00

Hours

00

Minutes

00

Seconds
Koko Samoa Pods: The Most Convenient Way to Enjoy Koko Samoa, for Less Than The Price of a Coffee
Our cacao pods are made from cacao beans from Samoa. We've lovingly created the hot beverage Samoa knows and loves (Koko Samoa), in easy and convenient pod shapes - and each cup will cost less than half a cup of coffee! So now you can enjoy your hot beverage in convenient little pod shapes. One pod makes one cup of hot koko. 
See what Koko Samoa pods can do for your day
Tastes and Feels Amazing
 We believe that it is important to make small changes in your life to protect what we value most, whether its our health or our environment. We use cacao from trees planted on our farm, and neighbouring villages and we labour alongside other businesses who hold similar values and dreams, to make sure we get the coverage Samoa deserves. Our cacao and cacao husks are single-origin, vegan friendly and 100% organic. The fine flavour profiles comes from a rich history, nutrient dense volcanic soil and lush green mountains surrounded by sea and sun.
No Hassle, No Waste
"Koko" is a rich drink steeped in tradition. It has long been an important part of the Samoan culture; bringing families together for gatherings, celebrations and important ceremonies. What makes our Koko Samoa different is that our single-serve pods mean no more scraping and grinding the big old block of koko, and no wasted leftovers in the pot!
Enjoy An All-Natural Replacement for Coffee And Chocolate
The Koko Samoa is made from 100% premium Samoan Trinitario Cacao beans, is gluten-free and vegan friendly. It's also stone ground cacao for a true pacific island experience. Single-Serve Koko Samoa means less wasted koko in the big pot! Your family will love the little pods of 100% organic cacao. Use them to make your favourite koko recipes, like koko alaisa. It's quick and easy to make. No added ingredients. Just 100% Koko (cacao)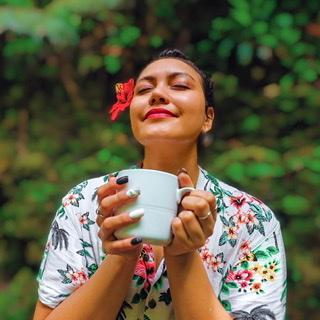 Home isn't a place. It's a feeling.
Now you can enjoy your hot beverage in convenient little pod shapes. One pod makes one cup of hot koko. One bag makes 21 cups of Koko Samoa. Just add hot water and your choice of sweetener. Koko Samoa traditional style taste but in single servings.
Through it all, our mission has remained the same. That is to improve the quality of life for Samoan families, by connecting them to a global village.
Superfood packed with nutrients
Cacao is packed with nutrients like antioxidants that may boost your immune system and magnesium that may help support bone, brain, and heart health. While low in carbs and calories, Cacao also acts as a natural appetite suppressant. Best of all, cacao can come loaded with natural mood enhancers that can help you feel great, increase focus, reduce stress, and sleep better. 
Say hello to one of nature's most amazing superfoods. 
Delicious replacement for coffee
Using coffee for your anger management? Theobromine gives you longer lasting, milder energy without the jitters and crash that can come from caffeine. How does this work? Theobromine acts as a vasodilator which expands your blood vessels to increase blood flow. Contrastingly, caffeine is a vasoconstrictor which constricts your blood vessels causing the heart to work harder to increase blood flow . Come to the koko side. We've got hot chocolate. You'll also love that koko samoa is 99.9% caffeine free and its boost of natural energy feels akin to a goodnight's sleep. We could all use some more of that!